General Mitchell International Airport
Located just eight miles from downtown, General Mitchell International Airport (MKE) offers travelers lower fares and more options than ever to make meeting in Milwaukee easy.
Mitchell is the only airport in Wisconsin or Illinois served by all the major domestic airlines. Flights from Air Canada, Alaska Airlines, American Airlines, Delta, Frontier, OneJet, Southwest, United and US Airways serve up to 39 cities non-stop nationwide and more than 160 cities with one stop. Average airfares in Milwaukee continue to be lower than 77 of the top 100 airports in the United States.
General Mitchell has been ranked by Conde Nast as one of the top five business airports three years in a row, and it made Travel and Leisure's list of "America's Best Airports," thanks to its great location, ease of check-in and minimal delays – plus Renaissance Books, "arguably the best airport bookstore in the world." In summer 2014, Mitchell unveiled a new in-line baggage screening system to improve passenger check-in. Further updates to baggage claim and processing are currently underway.
There are eight on-premise auto rental agencies, plus a variety of shuttles, taxis, limousine services and coach transports available to help you get from the airport to the convention center district or wherever else you need to go. An Amtrak station is also conveniently located on-site.
Parking Details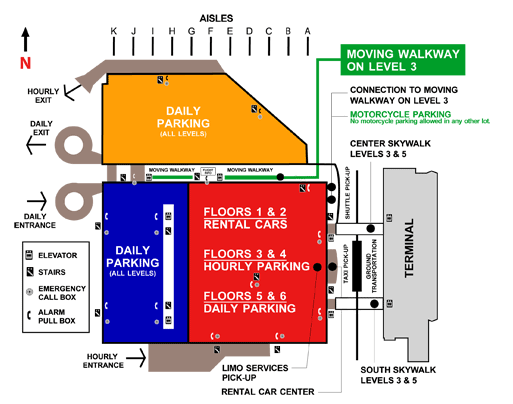 First hour or less in Hourly, Surface, and Cell Phone Lots is Free. Each additional hour (or fraction of) is $2 per hour, up to the maximum daily charge.
All lots are operated by CPS Parking, 414-747-4580.
The Baggage Claim and Ticketing roadways should only be used for active loading and unloading of passengers and luggage.
Download Parking Map (PDF)
Frequently Asked Questions
How Far Is The Airport From Downtown?
General Mitchell International Airport is just 8 miles south of downtown Milwaukee.
How Do I Get From The Airport To Downtown Milwaukee?
There are a variety of cab and shuttle services available at the airport, as well as an Amtrak station right outside the terminal. If you're driving, a short trip up I-94 W will take you directly into the heart of downtown.
Where Can I Park At The Airport?
General Mitchell offers hourly and daily parking in their structure and long-term parking in their surface lot and SuperSaver lot.
What Cities Are Served Non-Stop From Mitchell?
Over 30 cities, including Las Vegas, Los Angeles, New York and Orlando are served non-stop. Find them all here.
What Dining Options Does The Airport Offer?
From coffee to burgers, Mitchell International Airport offers a variety of restaurants to help you refuel before or after your trip. You'll be able to dine on local Milwaukee favorites as well as familiar national chains. Options include: Colectivo Coffee, Famous Famiglia, Miller Brewhouse, Quiznos Subs, Starbucks, Northpoint, Auntie Anne's, Chili's, French Meadow Bakery, Pizzeria Piccola, Johnny Rockets, Nonna Bartolotta's, Usinger's and Cooler by the Lake.
How Do I Access Wi-Fi The Airport?
Travelers can purchase Internet access through Boingo Wi-Fi Service. Flight information can be checked free of charge by using the "Flight Tracker" link on the Boingo login page.