City of Steeples
It's one of the first things you notice as you fly over beautiful Lake Michigan and land in Milwaukee – we're a city of steeples! Immigrant populations from Germany, Poland, Italy, Ireland and England originally settled Milwaukee and built churches with soaring towers all over the city, and those that followed brought their own faith traditions. Today Milwaukee has more than 1,000 houses of worship of all denominations.

Cultural Institutions
Annunciation Greek Orthodox Church
Designed by Wisconsin native Frank Lloyd Wright and completed after his death, Annunciation Greek Orthodox Church is open for services as well as tours of its magnificent architecture and design.
 
Basilica of St. Josaphat
Designed after St. Peter's Basilica in Rome, Basilica of St. Josaphat is a designated historic landmark. The basilica was built by Polish immigrants in 1901 with materials from a demolished post office and is open for tours in addition to its services and events.
Basilica of the National Shrine of Mary at Holy Hill
On a beautiful drive just outside of city limits, guests can see Holy Hill rising above the trees as they approach. Once there, walk up the hill passing by grottos dedicated to the stages of the cross. Inside the basilica, participate in services and explore the beautiful architecture.
 
Cathedral of St. John the Evangelist
In Milwaukee's Cathedral Square Park, Cathedral of St. John the Evangelist is the seat of the Catholic Archdiocese of Milwaukee and was dedicated in 1853. Tours of the cathedral are available upon request, including its surprisingly bright crypt beneath the cathedral.
 
Grace Evangelical Lutheran Church
A staple in the Milwaukee community for more than 170 years, Grace Lutheran Church features gorgeous restored stained glass windows, ornate craftsman woodwork, and a Schlicker pipe organ. Visitors may also enjoy an event in its beautiful Grace Center venue or stop in its trendy Grace Place Coffee.
 
Hindu Temple of Wisconsin
Building a temple in Milwaukee was a goal for several groups since 1980. That goal was finally achieved in 1997, when the Hindu Temple of Wisconsin opened its doors on 22 acres of land.
 
Islamic Society of Milwaukee
The largest of its kind in Wisconsin operating out of three facilities, Islamic Society of Milwaukee is a dynamic center serving the religious, educational, and social needs of the Muslim community. Also part of its mission is to promote good citizenship and build relationships with other communities.
Jewish Milwaukee Museum
Dedicated to preserving and presenting the history of the Jewish people in southeastern Wisconsin, Jewish Museum Milwaukee celebrates the continuum of Jewish heritage and culture.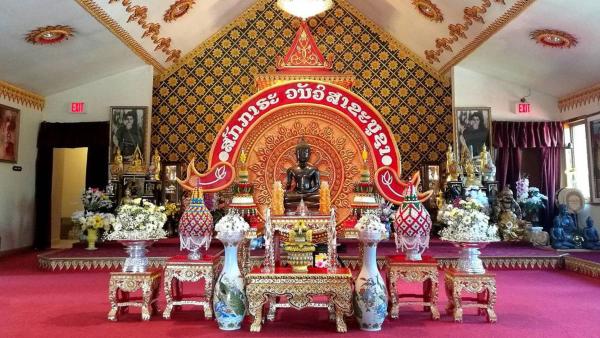 Phuoc-Hau Buddhist Temple
Milwaukee's suburb of Wauwatosa is home to the Phuoc-Hau Buddhist Temple (Chùa Phước Hậu). The religious organization welcomes Buddhists from the Greater Milwaukee and beyond.
 
Sikh Temple of Wisconsin
Established in 1997, the Sikh Temple of Wisconsin is located inside a gorgeous brick building that sits on 13 acres of land. Its mission is "to promote the principles and ideals of the Sikh religion regardless of color, creed, race, or national origin."
 
St. Joan of Arc Chapel
Brought stone by stone from France, the 15th century St. Joan of Arc Chapel now resides in Milwaukee on Marquette University's campus. This is a popular destination for people of all faiths to visit.
 
St. Mark African Methodist Episcopal Church
Founded in 1869 by Ezekiel Gillespie, St. Mark African Methodist Episcopal Church was the first African American church in the state of Wisconsin. The church found its current home in 1969 and maintains an active congregation to this day.

St. Sava Serbian Orthodox Cathedral
Completed in 1956, St. Sava Serbian Orthodox Cathedral is covered in traditional wall mosaics that have been described as "some of the most extensive and elaborate church mosaics in the United States." 
 
Trinity Lutheran Church
Founded in 1847 by German immigrants, Trinity Lutheran Church was placed on the National Register of Historic Places in 1979. Trinity suffered a tragic fire in 2018 and rebuilding of the historic church is currently in progress.
Explore Where Unique Unites
Find Your Milwaukee