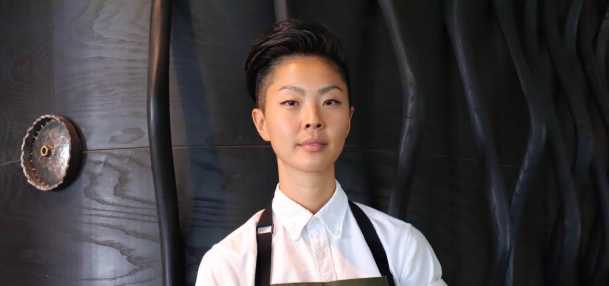 New host Kristin Kish joins powerhouse judges Tom Colicchio and Gail Simmons when Season 21 of the culinary competition heads to Wisconsin.
Read More
Milwaukee's Award-Winning Eats

James Beard-Recognized Restaurants

Allow us, if you will, a few moments of culinary persuasion. Because we have a sense of how you might think of Milwaukee's dining scene, and it probably has something to do with cheese, brats, and beer. Sure, we do enjoy a tasty wedge, a grilled link, and a frosty mug from time to time. But trust us - we've got a lot more on our plates here. And frankly, you should, too.
Word's steadily spread about Milwaukee's burgeoning dining scene for the better part of two decades, and the memo has led to some truly delicious rewards. Sometimes, the secret escapes through a James Beard award. Other times, a Milwaukee chef or restaurant captures the nation's TV cameras, or the message gets out through good-old-fashioned word of mouth. The simple, scrumptious result: Those in earshot eat very, very well.
In 2022 alone, Milwaukee was honored with a pair of James Beard award-winners. Dane Baldwin, chef and co-owner of The Diplomat on Brady Street, was named Best Chef: Midwest. Although his menu changes seasonally, it's an always-approachable mix of small and full-size plates. But don't think twice if trout is on the menu, and don't ever forget to save room for the peanut butter pie. 
It was also a banner year for Solly's Grille, which has perfected the Wisconsin art of the butter burger since first serving it way back in 1936. Solly's was named one of five America's Classics winners for its slightly messy masterpiece, a ground sirloin patty topped with stewed onions and the burger's namesake – an overly generous amount of Wisconsin butter.
Beard bestowed plenty of other Milwaukee honors in 2022. Kyle Knall of Birch was a semifinalist for the national Outstanding Chef award, and Odd Duck was named a semifinalist for national Outstanding Restaurant. Also, Karen Bell of Bavette La Boucherie was a finalist for Best Chef: Midwest. While Dan Jacobs and Dan Van Rite of EsterEv and Gregory León of Amilinda were semifinalists for the award.
Baldwin is the fourth Milwaukee chef to earn Beard's title of best in the Midwest, and all four still delight Milwaukee's diners with either their work or legacies. Justin Aprahamian won the award in 2014 as chef and owner of Sanford, one of the city's best-loved and longest-operating restaurants. He bought Sanford in 2012 from Sandy D'Amato, who opened it in 1989 and won Best Chef: Midwest himself in 1996. The seasonal menu, described as modern ethnic, remains true to its tradition of locally sourced artisan ingredients.
Adam Siegel's Best Chef: Midwest award came in 2008, and he recently opened Lupi & Iris to enhance downtown's fine-dining scene. It's a 2023 semifinalist for national Best New Restaurant. The seafood and pasta creations draw inspiration from the French and Italian Riviera, with ingredients sourced locally and from the coasts as well as Europe.
When the Beard Foundation honored Siegel, he was executive chef at Lake Park Bistro, which remains one of Milwaukee's top fine-dining destinations. In addition to outstanding French cuisine, it also boasts one of Milwaukee's top views from atop a bluff overlooking Lake Michigan. Fans of great lake views should also consider Harbor House, which specializes in seafood and shares the same lakeshore stretch as the Milwaukee Art Museum and Discovery World. Both are Bartolotta restaurants, and owner Paul Bartolotta was a Beard finalist for Outstanding Restaurateur in 2020 after multiple years of prior Beard recognition with his late brother, Joe.
Black Shoe Hospitality - run by Joe Muench, Dan Sidner, Amy Kerstein, and Jason Kerstin - was named a semifinalist for Outstanding Restaurateur in 2022 and 2023. The company's restaurants include Blue's Egg, Story Hill BKC, Buttermint and Maxie's.
Justin Carlisle, a four-time finalist for Best Chef: Midwest, opened Ardent in late 2013, and it was an immediate hit on Milwaukee's lower East Side. It earned immediate Beard recognition, too, being tabbed as a semifinalist for national Best New Restaurant in 2014. Today, Ardent's calling card is an adventurous 12-course tasting menu served in its intimate dining space. 
Beard recognized David Swanson, chef and owner of Braise in Walker's Point, as a semifinalist for Best Chef: Midwest from 2013-2016. The restaurant locally sources ingredients from more than 40 farms in Wisconsin to curate a rotating seasonal menu. 
Three Brothers opened in 1956, tucked into a quiet Bay View neighborhood just steps from Lake Michigan. In 2002, its detailed commitment to traditional Serbian cuisine earned a James Beard America's Classics award, and after one bite of their famed burek, you'll know exactly why. 
Raise a Glass

Beer may always be foundational to Milwaukee's bar scene, but we also know a thing about spirits, and the Beard Foundation knows we know. Goodkind was a semifinalist for the Outstanding Bar Program award in 2022. Co-owner Katie Rose is the driving force behind Goodkind's expertise at pairing the perfect cocktail with chef and co-owner Paul Zerkel's seasonal Americana cuisine.
Bryant's Cocktail Lounge opened its doors way back in 1938 and has gained a national reputation for its classic combination of atmosphere and mixology. Among its many honors through the years was Beard semifinal recognition for Outstanding Bar Program in 2013 and 2019.
Good Eats in The Good Land
We hope you have an appetite for good news! Milwaukee, the Cream City, Brew City, the Good Land, the Gathering…