The Hop
Milwaukee's Streetcar
Milwaukee's new streetcar is ready to take you where you need to be downtown – and thanks to sponsor Potawatomi Hotel & Casino, everyone rides free! Take advantage of this convenient new transportation option as you travel throughout downtown Milwaukee.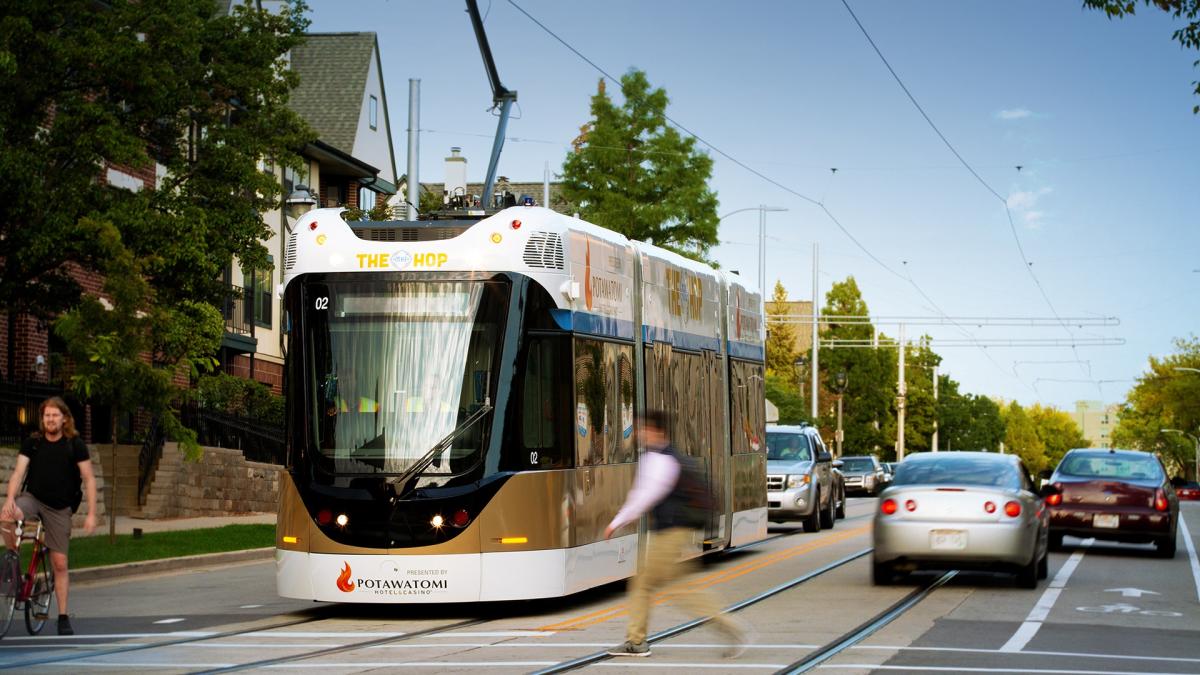 How To Hop
Using The Hop couldn't be easier. Each of the 5, 67-foot streetcars feature roll-on, roll-off access for wheelchairs, strollers, and bicycles. There is capacity for 150 people, with a mix sitting and standing. The best part is that it's totally free! 

Here is how to Hop like a local:
Step or roll up to one of The Hop's 18 stations
Wait no more than 10-15 minutes for the next car to appear - you can get real-time vehicle updates with the TransLoc Rider app
Hop on the streetcar
Find a seat or grab a handrail
Listen for an audio announcement and visual aids (including Braille) to learn when your stop is coming up.
Relax and enjoy a smooth ride!
Where To Hop
The Hop makes it easy to access many of downtown Milwaukee's most popular attractions, restaurants, and more. Within 2 blocks of the M Line and Lakefront Lines are:
117 restaurants, bars, cafes/coffee shops

59 retail shops
17 entertainment destinations
11 hotels
7 parks
38 health/wellness and beauty salons
11 Bublr Bike stations
70 service providers
8 places of worship
5 grocery options
And 1 intermodal station with more than 1.5 million visitors every year.
Hours Of Operation
Monday through Friday
5 a.m. to 7 p.m. – Arriving every 15 minutes
7 p.m. to 10 p.m. – Arriving every 10 minutes
10 p.m. to 12 a.m. – Arriving every 15 minutes
 
Saturday
7a.m. to 12 a.m. –  Arriving every 15 minutes
 
Sunday
7 a.m. to 10 p.m. – Arriving every 15 minutes

For the most up to date information, visit thehopmke.com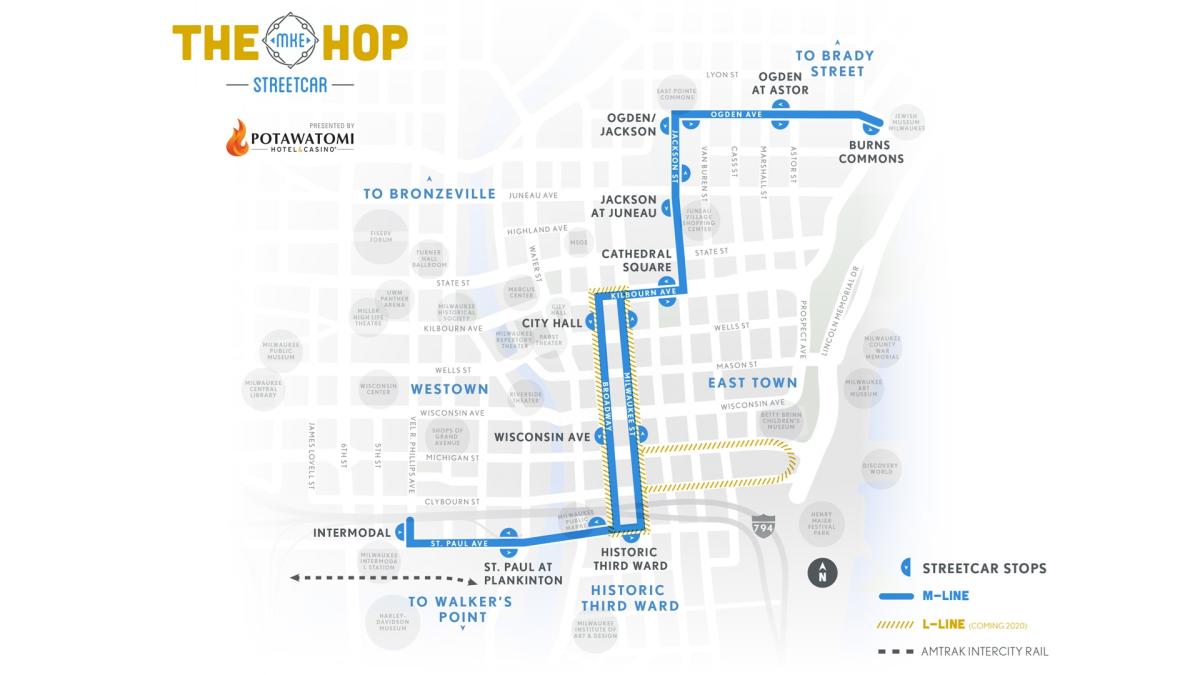 Top Hop Spots
Not sure where to ride on the Hop? Here are a few of our favorite spots to explore along the streetcar route.

Cathedral Square Park
Cathedral Square is a great place to relax, or hit up one of neighboring restaurants or bars. Drop by on Saturday mornings for the Cathedral Square Market, check out Sunday mass at St. John's Cathedral or just enjoy the playground with the kids.

Pabst Theater
Originally built in 1895 by Captain Frederick Pabst, the Pabst Theater is still one of the city's crown jewels and live-music meccas. Plan your trip around a comedy or music show at the Pabst, and you'll be in for an unparalleled live entertainment experience. 

Milwaukee Public Market
At the Milwaukee Public Market you'll find 20 local vendors serving up delicious eats from tacos and lobster rolls to salads, vegan smoothies, and classic Wisconsin fare like local sausage and cheese. Check out the market for lunch, then stroll through the shops and boutiques of the Third Ward. 

Milwaukee RiverWalk
Hop off The Hop at the Historic Third Ward WB stop and cross Water Street to head to the Milwaukee RiverWalk. From there you can take the RiverWalk north just over 2 miles and back again to take in the wide array of architecture downtown. Don't forget to stop at any of the restaurants along the RiverWalk for beer, tacos, a cheese plate – or all three!

Sculpture Milwaukee
Disembark at Wisconsin Avenue and walk east or west along the city's grandest thoroughfare. From June through October, you'll find over 20 sculptures as part of a free public exhibition of world-class art from local and national artists. 

Milwaukee Intermodal Station
The Hop's 2.1-mile route starts and ends at the convenient and modern Intermodal Station. From there you can board an Amtrak train or Greyhound Bus and head out on your next adventure.