Getting Around Town
Getting around the Milwaukee area is just as easy as getting to it! Local transportation options abound, and the city's compact, walkable downtown makes exploring a snap. If you find yourself in need of assistance, just look for the blue shirt or jacket worn by the Public Service Ambassadors, Milwaukee's walking concierges employed by our partner Milwaukee Downtown BID #21.
Driving
Milwaukee is conveniently located at the intersection of I-94 and I-43. The award-winning $810 million Marquette Interchange completed in 2008 assures optimal downtown highway traffic flow. Parking downtown is readily available. Visit ParkMilwaukee.com to find lots and structures near popular downtown attractions, and use the handy MKE Park app to pay for meter parking directly from your phone.
Walking
Milwaukee's compact downtown makes it easily walkable. The 3-mile Milwaukee RiverWalk winds through downtown, connecting the Beerline B neighborhood to Old World Third Street and then the Historic Third Ward.
Public Transportation
MCTS buses run throughout downtown Milwaukee and the rest of the county, including the new East/West Bus Rapid Transit line, Connect 1. Download the Umo mobile app, which makes it easy for all to get around with route information and real-time bus tracking - you can even buy your fare directly from your phone!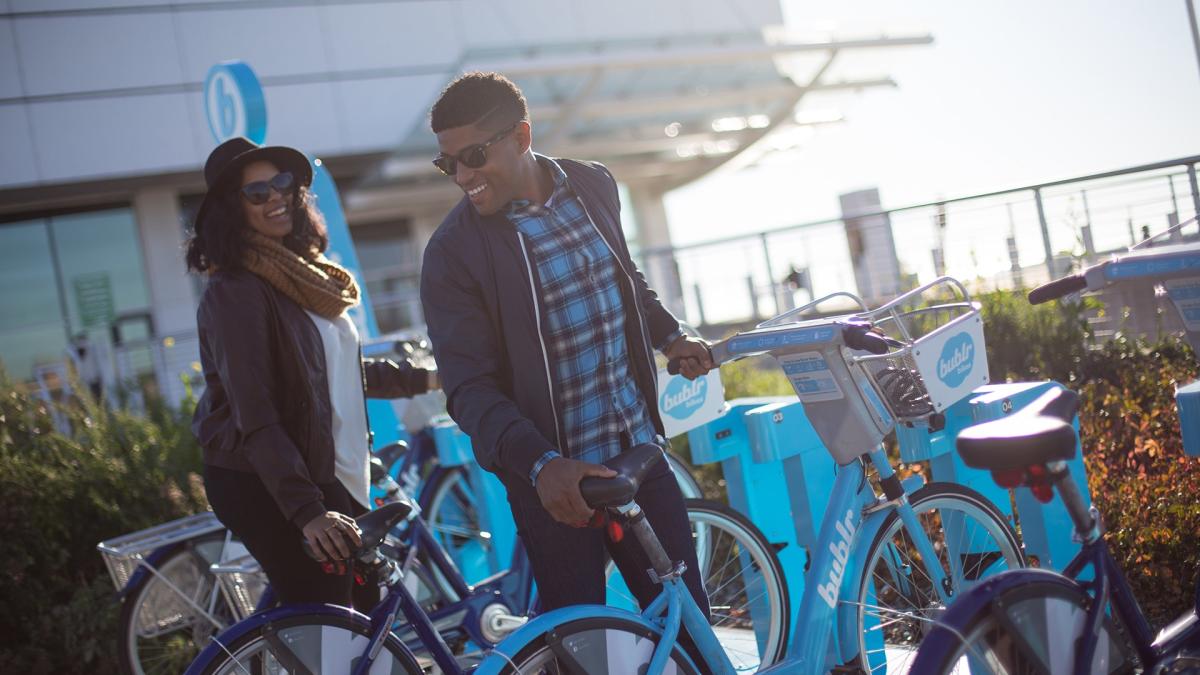 Biking
It's easy to explore the city on two wheels. All city buses are equipped with a bike rack so you can decide how far you ride. If you didn't bring a bike, take advantage of Milwaukee's bike share program, Bublr Bikes. Stations are located throughout downtown and in neighboring Shorewood, Wauwatosa and West Allis. Milwaukee is a BCycle city, so use your home pass to check out a bike and start riding.
Taxis
Ride with peace of mind with TaxiMKE. Milwaukee's largest, most trusted taxi company, TaxiMKE offers reliable service without surge pricing. Order via the TaxiMKE app 24/7 365 days a year to get to enjoy a night out, get to the airport, and so much more.
Trains
Located downtown, the recently renovated Milwaukee Intermodal Station features 14 total Amtrak departures daily between Chicago and Milwaukee, and daily direct departures between Minneapolis/St. Paul. Connect through Chicago to over 500 cities nationwide. Check the schedule here.
Electric Vehicles
Whether you are renting an electric vehicle or drove into down with one, knowing where you can recharge is important. Milwaukee has charging stations located all throughout the city. Plugshare, ChargeFinder, and Chargehub are helpful tools to keep your vehicles at full charge during your stay.
Scooters
Scooters are back in Milwaukee! Residents and visitors can choose from Lime, Spin, or Veo scooters. Scooters can be ridden anywhere in the city, including downtown and the Third Ward. Learn more about the program: milwaukee.gov/scooters 
If you are having an issue with a scooter, use the company's app to report it, or find contact info at milwaukee.gov/scooteroperators.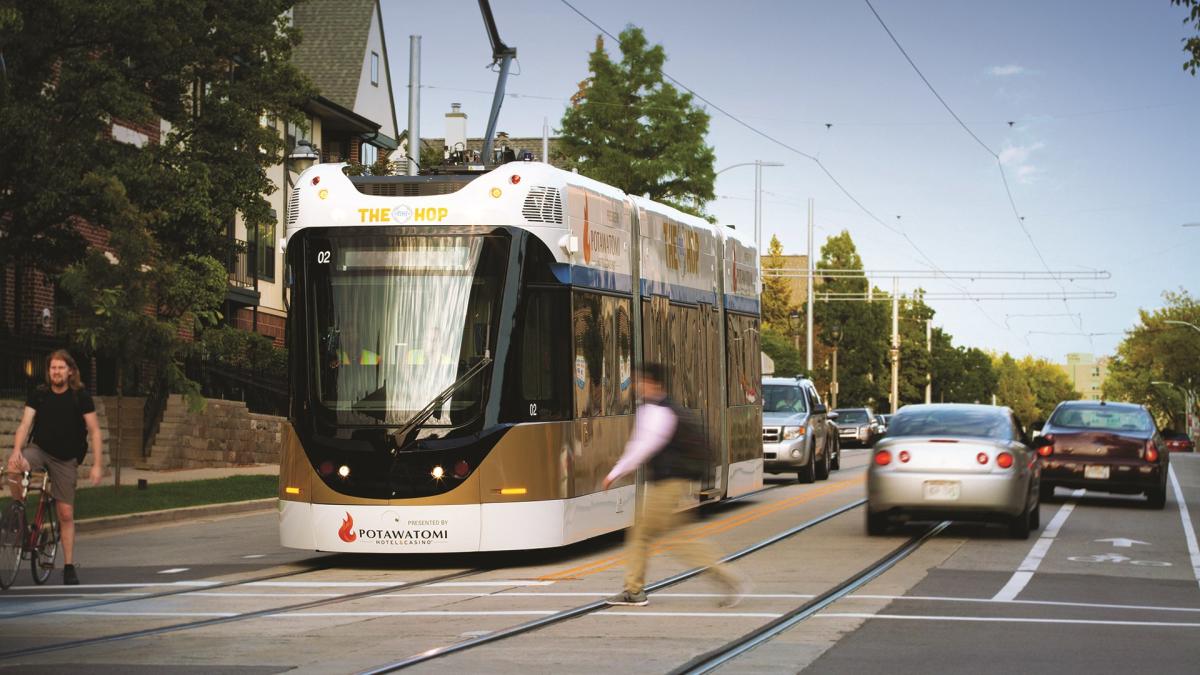 Streetcar
The Hop streetcar connects some of Milwaukee's most popular neighborhoods and attractions on its 2-mile route, starting at the Milwaukee Intermodal Station and looping through downtown. To get real-time updates on Hop vehicles, click here for the Hop app. Best of all, rides on The Hop are free to all! 
Ferry
The Lake Express Ferry is a state-of-the-art auto/passenger ferry linking Milwaukee with Muskegon, Michigan. The 2-hour trip offers passengers a faster and more direct route than driving south around Lake Michigan through the Chicago area.
Private Transportation
Milwaukee has several private transportation options that can accommodate groups both large and small. AccuTrans Group, Badger Coaches, Callaway Transportation, Captain Morgan's Transportation, Coach USA Milwaukee/Wisconsin Coach Lines, Tootl, Lamers Bus Lines, Lamers Tour & Travel, Luxury SUV Rides, Milwaukee Food & City Tours, National Charter Bus, and SS MKE Tours are great options should you need a private bus rental while you explore the city.
Ride Share
Uber and Lyft both operate in Milwaukee.  Use code VISITMKE ( or visit www.lyft.com/i/visitmke) for $10 off two rides from Lyft. 
RV
Wisconsin State Fair Park is the only RV park in metro Milwaukee and is conveniently located just off I-94. Take advantage of proximity to top attractions and a variety of on-site amenities.
Acce​ssibility
All Milwaukee city buses are wheelchair-accessible via a ramp at the front of the bus. Other accessible rides can be arranged through local non-emergency transportation companies, like Tootl. The Amtrak train between Milwaukee and Chicago is also wheelchair accessible. Find accessibility resources in Milwaukee here.
More Getting Here & Around