In the official Coffee Capital of the U.S., visitors and locals alike are spoiled for choice.

Milwaukee may be best known for its history as the beer capital of the world, but these days there's another brewed beverage on the rise — coffee. 
Earlier this year, Clever Real Estate recognized Cream City as the official Coffee Capital of the U.S, beating out other big coffee cities such as Austin, Seattle and Portland for our collective love of java. The real estate service behind the list honored Milwaukee's flair for "serving up the perfect blend of coffee culture and affordability." 
During the pandemic, Milwaukee's coffee scene kept right on brewing. Despite temporary closures, social distancing measures and turning to curbside pick-up for those daily pick-me-ups, Brew City never lost steam for its beloved caffeinated drink. 
As more and more people return to the office, work remotely and meet up with friends, it's clear — Milwaukee's downtown coffeehouse culture is back. The area has long been home to an eclectic mix of chain and independent cafes for years, but one new face stands out on the java scene: Fiddleheads Coffee Roasters. 
If you're wondering where to get the best coffee in Milwaukee, Fiddleheads Coffee Roasters has been serving up the perfect roast for more than 25 years. It opened its first cafe in Thiensville in 1996, back when most people grabbed a cup of Joe from their local Ma and Pop diner or only dreamed about hanging with friends on an orange couch at Central Perk. Even the word "latte"  — later popularized by a two-tailed mermaid — hadn't really entered the public lexicon.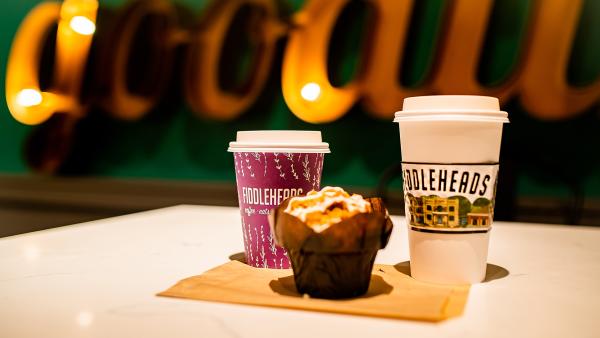 Still, the family-owned wholesale and retail coffee business saw an opportunity to bring coffeehouse culture to the Greater Milwaukee community. Over the years, the Fiddleheads' team ventured across the world to uncover the best coffee beans and studied under coffee gurus, like Willem Boot, to refine its roasting and brewing process. Fans have been flocking to its eight locations ever since. 
In 2021, the local coffee company opened its flagship coffee shop in the Milwaukee BMO Tower. Located at 790 N. Water Street, just outside the bank's main lobby, the cafe provides a cool and cozy atmosphere to indulge in America's favorite beverage.   
If you're looking to find your next perk, Fiddleheads offers a full selection of specialty coffee including espressos, drip coffee, lattes, mochas, cold brews, and seasonal drink options. The cafe is also home to artisan bakery items and a full breakfast and lunch menu to satisfy those hunger pangs for the returning downtown workforce.  
Speaking of getting work done, the cafe features plenty of countertop seating, soft seating nooks and collaborative workspaces to host meetings or take a coffee break. And if that's not enough space, a multi-level common area sits right outside the cafe, which features a stunning mural by Milwaukee-based artist Mauricio Ramirez. 
It's the perfect backdrop to fill your cup and get inspired.       

Article originally published on 4/29/2022