VISIT Milwaukee Welcomes New Vice President of Marketing and Communications 
Josh Albrecht brings extensive experience in destination management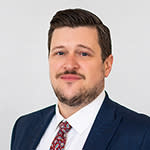 MILWAUKEE – (Feb. 10, 2022) VISIT Milwaukee is pleased to announce it has hired Josh Albrecht as its vice president of marketing and communications. In this role, Albrecht is responsible for strategy development, operational management, and the overall leadership of VISIT Milwaukee's dynamic marketing, communications, and digital departments. 
"We're thrilled to have Josh join the VISIT Milwaukee team in what is an exciting time for tourism in the city," said Peggy Williams-Smith, president & CEO of VISIT Milwaukee. "He's highly experienced in marketing and destination management and has a history of successfully executing results-oriented programs. Josh will help us promote Milwaukee on a regional, national, and international scale." 
While the pandemic continues to disrupt the tourism and hospitality industries, experts say pent-up demand for leisure travel continues to grow as does the amount of time travelers spend researching destinations. This is why marketing Milwaukee as one of the country's top leisure and business travel destinations has taken on an increased importance in 2022 and beyond. Parallel to this is the city's cultural development boom, which means there is more to promote than ever before. Exciting new attractions like America's Black Holocaust Museum, 3rd Street Market Hall, and the Bradley Symphony Center, as well as forthcoming projects like the Wisconsin Center's historic expansion and the Bronz eville Center for the Arts mean more avenues of exploration for travelers of all kinds.  
Albrecht has worked in the tourism and events industry since 2007. Most recently he served as the chief marketing officer for the Peoria Area Convention and Visitors Bureau in Illinois. In that position, he managed all brand execution and development for the bureau, including a comprehensive brand change that resulted in a new name, Discover Peoria, a new website, and a brand style guide. Additionally, he oversaw the organization's communications, as well as its advocacy and public affairs work. Prior to his time at Discover Peoria, Albrecht worked as the executive director of the Saugatuck/Douglas Area Convention & Visitors Bureau in Michigan, director of marketing and public affairs for the Rockford Area Convention & Visitors Bureau in Illinois, executive director of Dixon Main Street, a non-profit organization, and public relations and volunteer management for the band Mumford & Sons. Before working in tourism and events, he spent nearly a decade as a journalist. 
"Helping to tell the great story of Milwaukee is a dream come true," Albrecht said. "I am excited to be a part of an amazing organization that doesn't hesitate to tackle big initiatives to bolster the communities it represents." 
Albrecht, who is a new member of the Milwaukee RiverWalk District board, was a regular visitor to the city with his wife, Kelly, and their three children before taking this role. "Milwaukee has always been a favorite destination for travel," he said. "We're thrilled that we now get to call this community home."  
Interviews are available upon request.