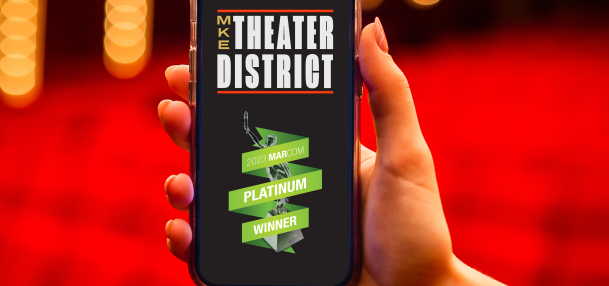 Each year thousands of entries are submitted from dozens of countries, and this year Milwaukee Theater District received the highest level of recognition! Thank you to everyone who is a part of the MKE Theater District and all those that have supported our efforts in the creation of the district. Can't wait to celebrate during Milwaukee Theater Week!
Read More
A Cast of 13 Strong
The Milwaukee Theater District thrives off the collaborative efforts of 13 powerhouse performing arts groups and entertainment venues as well as four supporting entities.
Tickets, Tickets, please! The Milwaukee Theater District Pass is the brand-new way to save on all your favorite downtown businesses. Whether enjoying the all-time classic dinner and a show or a curtain call-inspired post-show treat, use the…
Secure VIP treatment when you subscribe to the brand-new Milwaukee Theater District newsletter. Be the first to know about upcoming shows, hotel deals, and more exclusive content.
It's in the Numbers
The Milwaukee Theater District includes thirteen venues and performing arts organizations, and four supporting entities, representing a wide array of programming and venue experiences. With over 15,000 theater seats across founding venues, the Milwaukee Theater District ranks No. 1 in the United States for the highest number of theater seats per capita.
Nine performing arts and live entertainment organizations, along with other supportive entities, are pleased…
Milwaukee Theater District In the News
The Milwaukee Theater District is pleased to announce the inaugural Milwaukee Theater Week, a…
The Milwaukee Theater District is pleased to announce "It's Alive on the…