Wisconsin Center District Places Final Piece of Structural Steel for $456 Million Expansion Project

On Wednesday, May 10, 2023, The Wisconsin Center District (WCD), with the help of its construction management team Gilbane I Smith installed the final piece of structural steel to complete the frame of the $456 million Baird Center expansion and celebrated with a formal ceremony. Ceremony speakers included WCD President and CEO Marty Brooks, Governor Tony Evers, Milwaukee Mayor Cavalier Johnson, Baird Chairman and CEO Steve Booth, WCD Board Chairman Jim Kanter, Wisconsin Department of Tourism Secretary Anne Sayers and VISIT Milwaukee President and CEO Peggy Williams-Smith. High-resolution photos available for media use can be found here. High-resolution renderings of the Baird Center can also be downloaded at BuildingMore.com. The recap video can be found here.
"This day represents a turning point in the project. After today, we will really start to see it come to life," Wisconsin Center District President and CEO Marty Brooks said in his remarks.
 
Once complete, the expanded Baird Center will double in size to 1.3 million square feet, including 300,000 square feet of exhibition space, 400 indoor parking spaces and a spectacular rooftop ballroom with sweeping outdoor terraces.
 
"This will allow us to not only solicit larger events but host multiple events simultaneously or overlapping, putting more heads in beds for our hotel partners and more table turns for the restaurants, bars and taverns in Milwaukee. The expansion will incorporate unique elements of Milwaukee and state-of-the-art amenities that meet today's needs and industry trends for decades to come," Brooks said.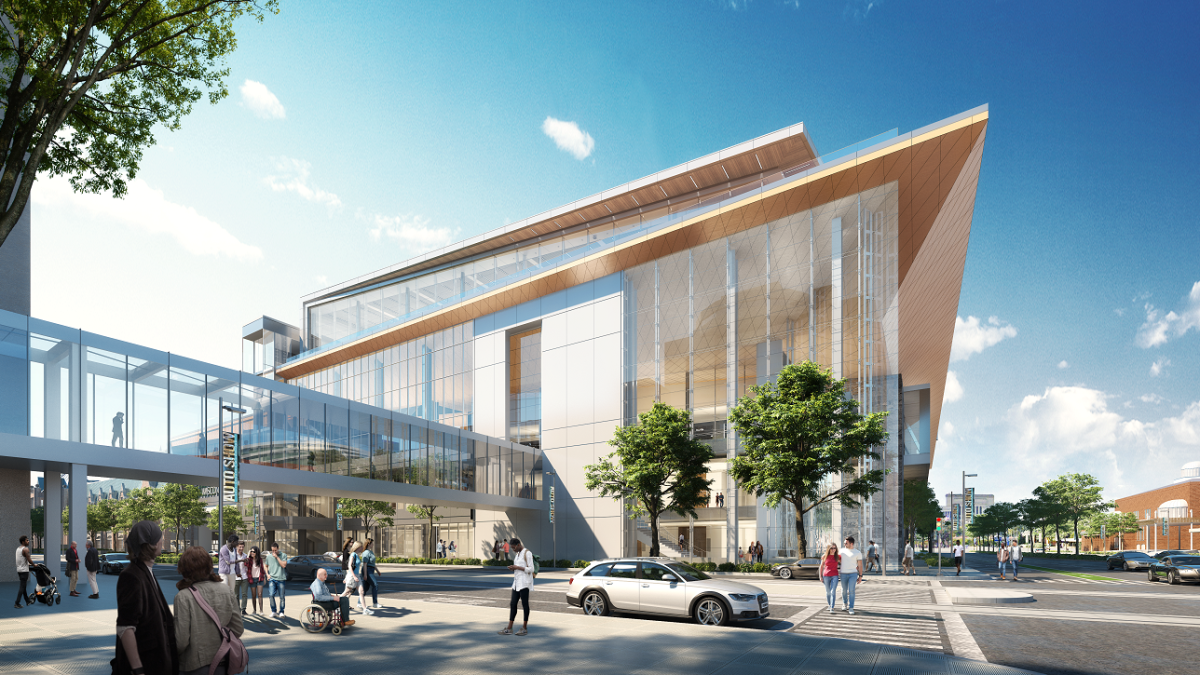 The Baird Center will include intentional features like quiet rooms, nursing mothers' rooms and gender-neutral restrooms to ensure that the building is inclusive for all. In addition, the expansion will be equipped with top-notch sustainability features like an underground stormwater management system, on-site food composter and a solar roof, sure to contribute to a greener community. The District is also applying for LEED Silver certification.
 
The Wisconsin Center District continues to follow through on its self-imposed Disadvantaged Business Enterprise commitment, hiring at least 25 percent minority-owned businesses, five percent women-owned businesses and one percent disabled-veteran-owned businesses for construction.
 
In addition, the District has a goal to have at least 40 percent of on-site construction labor hours to be performed by trades workers residing in Milwaukee's most underserved zip codes.
 
The project broke ground on October 28, 2021.
 
"It's truly incredible to see the transformative progress being made here on the job site. This expansion has been in the works since the original building opened in 1998, and the WCD board is proud to see its progress. I remember the meeting where we, the Board, authorized the project in April of 2020. There were three of us sitting in a meeting room at least six feet apart, with everyone else dialing in because Zoom was still foreign to us. I cannot believe we're just twelve months away from the grand opening," WCD Board Chairman Jim Kanter said during the ceremony.
 
The expansion will reach substantial completion in March of 2024, with the first events booked in May.